In general, we know Tulsi as Basil in English, commonly used as an herb and as an offering to the Hindu gods. The Tulsi Vivah puja is quite famous among the sincere devotees of Lord Vishnu.
Tulsi (Brinda) is known as a Hindu goddess and considered to be the wife of Lord Vishnu. Also known as Vishnupriya that is the beloved of Vishnu, the legend behind it all is scripted in the Padma Purana. It is believed that Brinda was married to a demon king called Jalandhar who was invincible due to Brinda's piety and devotion to Lord Vishnu. In order to defeat Jalandhar, Lord Shiva had to seek help from Lord Vishnu. To which, Lord Vishnu the preserver of the universe had willingly disguised himself as Jalandhar and tricked Brinda by having intercourse with her. This resulted in the destruction of Brinda's chastity and led to Jalandhar losing all of his power. Hence, getting him killed by Lord Shiva as the final conclusion.
Tulsi Vivah Puja Images, Wishes, Status & Stickers for Whatsapp & Facebook 2022
However, Brinda cursed Vishnu to turn black in colour and separated him from his wife, Goddess Lakshmi. Brinda then drowned herself in the ocean and her soul was transferred to the Basil plant, Tulsi. The curse came true when he was transformed to the black Shaligram stone, a fossil. Later, when he was reincarnated as his Lord Rama avatar, he was separated from his wife, Sita.
Tulsi Vivah Puja 2022 Images & Stickers for Whatsapp & Facebook
Tulsi Vivah Puja Wishes & Whatsapp Status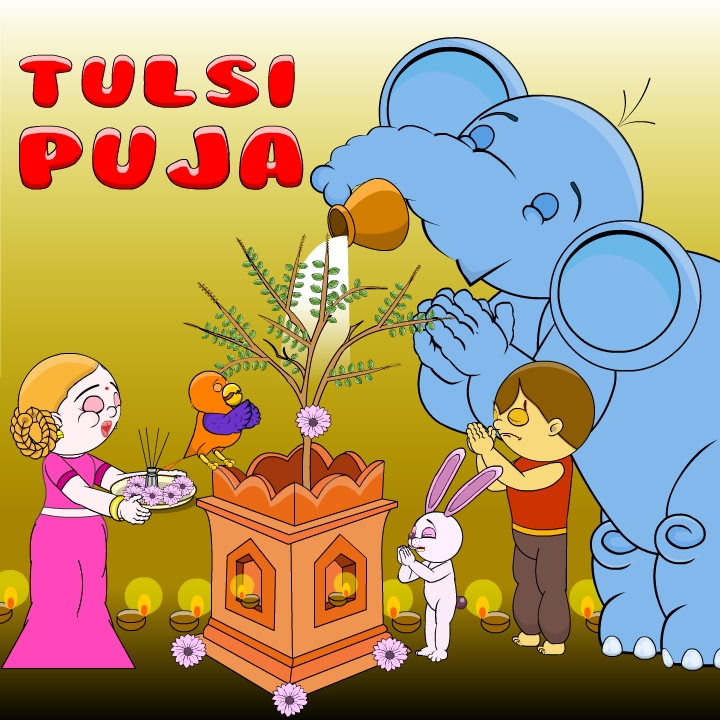 As per a blessing, in her next birth, Vishnu marries Brinda in a different form. Where Lord Vishnu is the Shaligram and Brinda is the Tulsi plant. They get married on the Prabodhini Ekadashi.
Tulsi vivah celebrations 2022
The marriage resembles the Hindu ceremonial marriage that is conducted at homes and temples. Also, the marriage is celebrated as a 3-day celebration during the month of Kartik all over India.
Prasad is distributed, firecrackers are lit and the surroundings are decorated. There are tulsi vivah puja images taken to be kept as a memento and also forwarded for good luck.